MOUNTAIN RAILWAYS
Tour programme – 7 days / 6 nights
Lucerne – Titlis – Interlaken – Jungfraujoch – Zermatt – Gornergrat

Valid from 1st January 2023 – 31st December 2023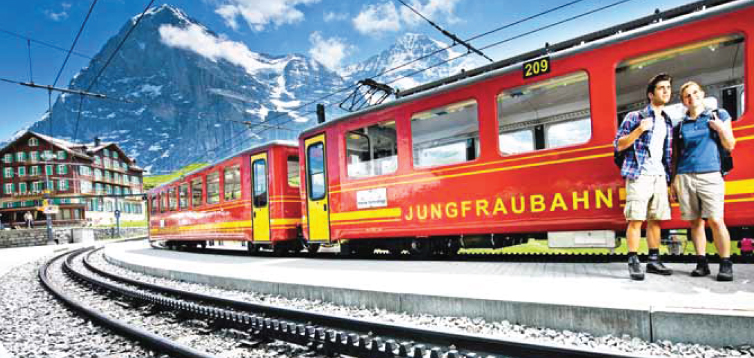 ITINERARY:
1st day:
Arrival in lucerne by train 2nd class from the Swiss border or any Swiss airport. over- night in lucerne.

2nd day:
Enjoy a ride in the first revolving gondola to Mount Titlis at 3020 m/10'000 ft. in lu- cerne you board the lSE-train to Engelberg. There a small gondola takes you up to the Trübsee. you continue your trip by another gondola to Stand. Finally the revolving gondola takes you up to Mount Titlis. For a spectacular, close-up insight into a glacier, you visit the glacier cave and ride the ice Flyer chairlift. and get your thrills on the TiTliS Cliff walk, a spectacu- lar Suspension bridge at a height of 3041 m/10'000 ft. overnight in lucerne.

3rd day:
Rail journey from lucerne to interlaken over the brünig pass via the wood-carving village of brienz. overnight in interlaken.

4th day:
The beautiful bernese oberland! First from interlaken ost via Grindelwald or wengen to the Kleine Scheidegg, at the foot of the famous Eiger North wall. Then by Jungfrau railway via the Eiger Glacier to the Jung- fraujoch – at 3454 m/11,333 ft the highest railway station in Europe. Views of the alet- sch Glacier, the longest glacier in the alps. Second overnight in interlaken.

5th day:
Travel either via the lötschberg base tunnel directly to Visp and further to Zermatt. or by the regioExpress lötschberger – the train with big windows using the lötsch- berg mountain route, passing the imposing Kander Viaduct, the helical tunnel around the Felsenburg and the descent to brig with the imposing view onto the rhone Val- ley and continue your journey to Zermatt (www.bls.ch/loetschberger). Zermatt, at the foot of the Matterhorn, is the perfect alpine resort. on arrival you might take the opportunity to go on an optional excursion to rothorn paradise to enjoy the best view of the Matterhorn. overnight in Zermatt.

6th day:
Board the cogwheel railway up to the Gornergrat, with views of the majestic Mat- terhorn, Monte rosa and other spectacular summits. overnight in Zermatt.

7th day:
Return to Swiss border or airport or con- tinue your stay in Switzerland at your own request.


PRICE ON REQUEST
INCLUDES
Swiss Travel Pass 8 Days
Excursions to Mount Titlis incl. ice Flyer chairlift, Jungfraujoch and Gornergrat
2 nights in Lucerne, room with bath/shower and WC, breakfast
2 nights in Interlaken, room with bath/shower and WC, breakfast
2 nights in Zermatt, room with bath/shower and WC, breakfast
Any additional tickets for optional excursions to travel by rail, boat, postal-coaches and cable cars can be purchased at 25–50% of the regular fares